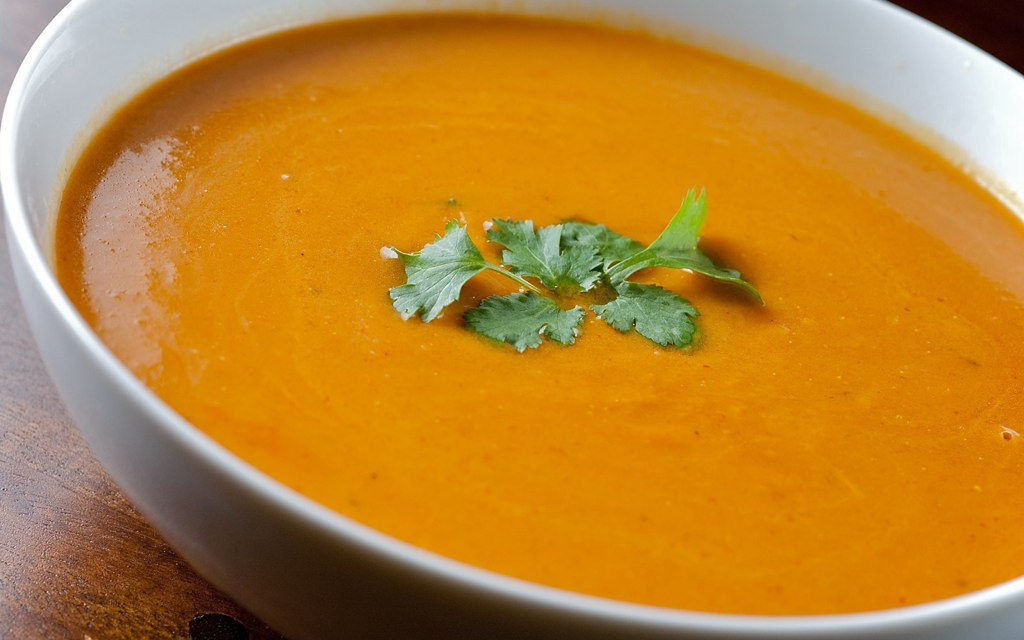 Ingredients
1 large butternut squash (3 lbs.)
1 Tbs. plus 1 tsp. coconut oil
1 large red onion, chopped
4 medium apples (any cooking variety), peeled, cored and diced
1 vegetable bouillon cube
1/2 tsp. ground ginger
1/4 tsp. ground nutmeg
1 cup coconut milk (or other plant milk but I like coconut because it is creamy and has lots of healthy fats), or more as needed
1 tsp. Himalayan pink salt, or to taste
1/2 tsp. freshly ground black pepper, or to taste
Preparation
1. Preheat oven to 400°F. With sharp knife, cut squash lengthwise in half. Scoop out and discard seeds and fibers. Place squash halves cut side up in shallow baking dish, cover with parchment paper then cover that tightly with foil (you don't want the foil touching food directly because the aluminum leaches into your food which is a risk factor for Alzheimer's disease) and bake until tender, 45 to 50 minutes. Set aside to cool.
2. Meanwhile, in large saucepan, heat oil over medium-low heat. Add onion and cook, stirring occasionally, until golden, 8 to 10 minutes.
3. Add apples, bouillon cube, ginger, nutmeg and 4 cups water. Mix well. Increase heat to high and bring to a boil. Reduce heat to low, cover and simmer until apples are tender, about 10 minutes. Remove from heat.
4. Scoop out squash from shells–you should have about 4 cups of squash. In a food processor, puree half of the squash with 1/2 cup coconut milk until completely smooth. Transfer to medium bowl. Repeat with remaining squash and 1/2 cup coconut milk; add to bowl.
5. Transfer half of the apple mixture to a food processor. Puree until completely smooth. Return to saucepan. Repeat with remaining apple mixture and add to saucepan along with squash puree. Mix well. Add a little more coconut milk or water if mixture seems too thick.
6. Return pureed soup to a simmer over low heat. Cook, stirring occasionally, until flavors have blended and mixture is heated through, about 5 to 10 minutes. Stir in salt and pepper and serve hot.