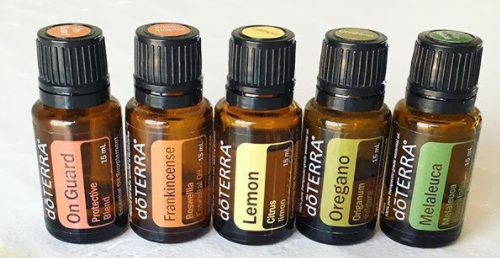 The Flu Bomb, because a mom can't be sick, not even for a day!
4 drops lemon oil
2 drops On Guard
2 drops Frankincense
2 drops Oregano
2 drops Melaleuca
Put all the oils in an empty gel cap and take immediately – the oils can break down the gel caps so don't make them ahead of time. Right before bed, you can also add 2 drops of lime oil which is good for suppressing a cough.
At first sign of a cold/flu, take every 4-6 hours until you feel better.
Flu Shot in a Roller Bottle
Take one of these roller bottles and add:
15 drops of OnGuard
15 drops of Oregano
15 drops of Lemon
10 drops of Melaleuca
6 drops of Frankincense
1 T of Fractionated coconut oil (can use other vegetable oil).
Roll this onto the bottom of your feet and along the spine 2 x a day
For children:
Dilute 1-2 drops of thyme or lemon in 2 tablespoons of carrier oil (e.g., olive oil, fractionated coconut oil) and massage a little on their neck and chest; and
Put oregano, melaleuca and OnGuard oils on their feet (1 drop of each mixed with a few drops of fractionated coconut oil and apply every 2-3 hours).
You can also can add 2 to 3 drops of On Guard and 2 drops Lemon essential oil to a teaspoon of honey for cold or cough relief medicine for children.